Rule Dialog - a Questionnaire Builder
Rule Dialog (ORD), a special add-on that allows non-technical users to create web-based questionnaires with complex dynamic interaction logic.
OpenRules 6.3.1 is available
The Release 6.3.1 enhances OpenRules BDMS with new features such as: automatic testing facilities that compare expected and actual decision execution results; handling Excel workbooks in the XLSX formats; additional macros for the expression language, and other features requested by customers.
May 18, 2014
DMN 1.0 Live Primer
OpenRules® provides an implementation of the DMN 1.0 Primer based on the oncoming OMG standard "Decision Model and Notation".
OpenRules on Cloud
Read the tutorial "Cloud Application Development" with examples of OpenRules web applications available on the cloud.
Forrester Research, Inc.
"OpenRules have the most-aggressive approaches to business-expert authoring and typically requires less developer support than IBM ILOG, FICO Blaze Advisor, and JBoss BRMS."

Market Overview: Business Rules Platforms
Upcoming Events

RuleML 2014, The 8th International Web Rule Symposium, Aug 18-20, 2014
CP 2014: International Conference on Principles and Practice of Constraint Programming, Sep 8-12 2014 Lyon, France
DecisionCAMP 2014, Oct. 12-15, San Jose, USA
BBC 2014, Nov. 2-6, 2014, Fort Lauterdale, USA
Recent Events
BBC 2013: Nov. 11-15, USA
Webinar "Creating and Managing Executable Decision Models"
Rule Dialog (ORD™) is a software product built on top of OpenRules® BDMS. It allows non-technical people to develop and maintain web-based questionnaires (dialogs) using only Excel and without a need to learn complex web programming techniques.
A questionnaire is a web application that can be described by a subject matter expert in terms of pages, sections, and different types of questions and answers. Layouts of pages, sections, questions, and complex relationships between them can be expressed in a very natural way using simple and intuitive Excel tables.
ORD™ is included in the standard complete OpenRules® installation.

The following documents describe the product:
Examples of web dialogs created with ORD: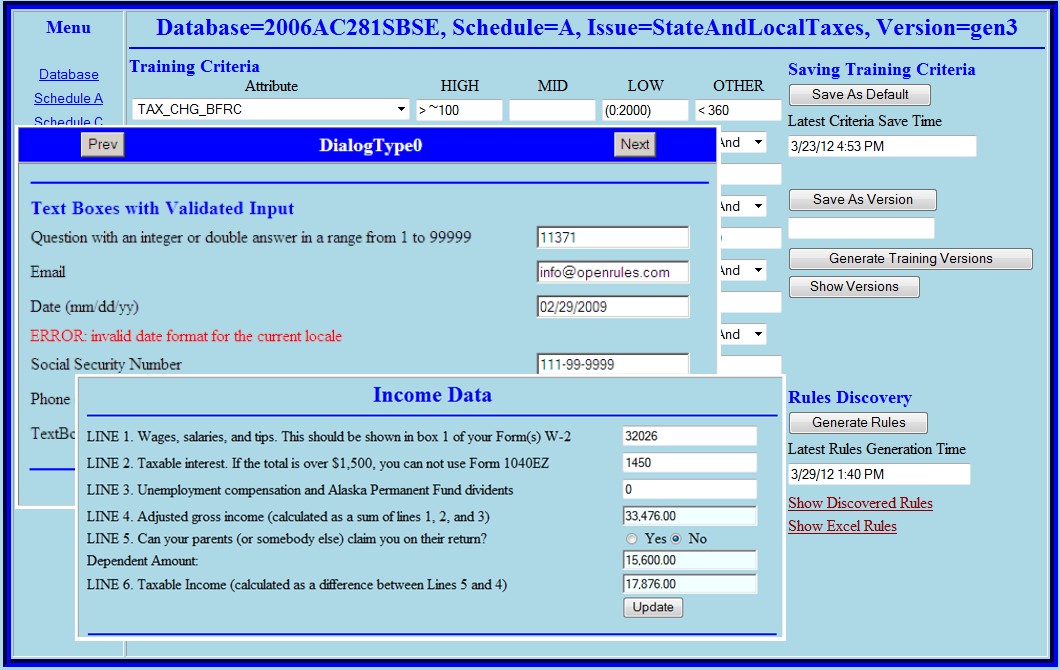 ORD is highly customizable and expandable. Only basic concepts, (dialog, page, section, question, answer) are hard-coded in Java as a part of OpenRules Forms. The business and presentation logic for building complex questionnaires is presented in predefined Excel-based rule templates and layouts available for learning and changes. Thus, ORD is completely open-sourced.
ORD already includes a set of Questionnaire Templates that will be expanded by OpenRules and its customers.
Your suggestions for improvements are very welcome!
Business Rules - Time to Excel